UC Merced Hosts Third Annual UndocuGrads Conference
More than 340 students, advocates, school representatives, and administrators were at UC Merced on Saturday for the third annual UndocuGrads Conference. The one-day event was designed to address the unique challenges faced by undocumented students — some of whom are covered by Deferred Action for Childhood Arrivals (DACA) — as they pursue graduate studies.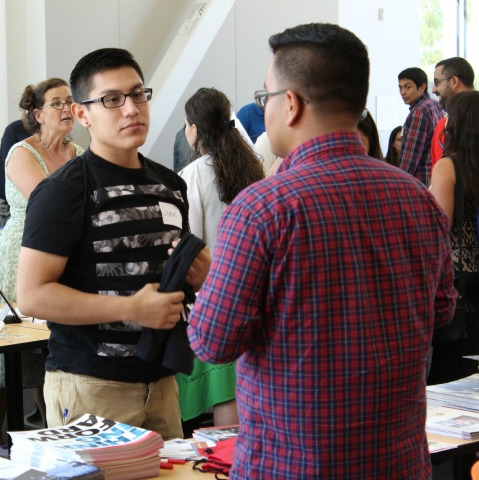 Students learn about their options for graduate school at the 2015 UndocGrads Conference.
The conference was organized by Graduates Reaching a Dream Deferred (GRADD) and Services for Undocumented Students at UC Merced, and co-hosted by the UC Merced Graduate Division.
"UC Merced's central location and the continuous support that we receive from the UC Merced Graduate Division made it the perfect location for the conference," said organizer Diana Valdivia Ordorica, the UC Merced Undocumented Student Advisor. Valdivia noted that large groups of students were bussed in from as far south as Irvine and as far north as Santa Rosa to attend the event.
Keynote speaker Jirayut "New" Latthivongskorn was UCSF's first undocumented medical student when he began his studies there in 2014. He told his personal story to a packed room of conference attendees ­— a story that included college scholarships and medical school acceptances that were later rescinded because of his undocumented status.
Rather than be discouraged by these rejections, he refused to give up his goal of earning a medical degree.
By the time he applied and was accepted to UCSF, Latthivongskorn said, "I was no longer afraid to own my undocumented status. It was because I trusted in my own experience that I was able to be successful. I was able to say, 'My undocumented status adds value. It is a way that I can bring new perspective to your program, not something that should be overlooked.'"
During the conference, attendees were able to choose from a variety of panels on topics including how to be a competitive applicant, how to best prepare for graduate school, and the types of financial support that are available for undocumented students. Recruitment officers from law, medical and research-focused institutions were on hand to talk to interested students, who were also able to network with other students and advocates from around the state.
Miguel Lopez, a fourth-year UC Merced undergraduate working on a double major in mechanical engineering and computer science, noted that the conference was useful not only for students who want to apply to grad school right away, but also for those who have longer-range plans.
Lopez was most excited about the panel that detailed the process of applying for and obtaining advance parole, a process by which those without a valid immigration visa are able to re-enter the country after traveling abroad. He wants to study machine learning — similar to artificial intelligence — in Japan for a semester before he completes his undergraduate degree. Ultimately, he hopes participating in this type of study abroad program will make him a more attractive candidate for graduate schools when he applies in 2016 or 2017.
Incoming UC Merced student Benigno Merlin, who starts his graduate training in the sociology program later this month, helped plan the conference and was a presenter.
"Applying to grad school was easier for me because I had a great network of undocumented graduate students that I connected with during my undergraduate studies at Sonoma State University — they helped to guide me through the process," Merlin said. "It's so hard to figure this stuff out on your own, especially when you are worried about your undocumented status. A conference like this one is really helpful to students who don't have that kind of support system."
In 2013, the first UndocuGrads conference was organized at UC Berkeley by GRADD to specifically address the unique challenges undocumented students face while pursuing advanced degrees. Last year, the event was held at UC San Diego. Each of the previous conferences had fewer than 140 attendees, but this year, organizers from the first two conferences sought to make it a truly statewide event.
"The record-breaking turnout for this event is a reflection of the state's need to better serve undocumented students, whether or not they have DACA status," said Vice Provost and Graduate Dean Marjorie Zatz. "We're thrilled to see so many bright young students interested in pursuing advanced degrees, and we look forward to welcoming them as applicants to UC Merced."
The conference was free for attendees, and many California schools arranged free transportation for registered attendees. UC Merced also offered low-cost housing to attendees on Friday and Saturday night. The conference was sponsored by the Graduate Divisions of seven UC campuses, the UC Merced Student Affairs Division, and UC Merced Chancellor Dorothy Leland.
Contact Us
Graduate Admissions:
Phone: (209) 228-4723
Graduate Funding:
Phone: (209) 228-4622
General Inquiries:
Phone: (209) 228-4723
Fax: (209) 228-6906
Mailing Address:
University of California, Merced
ATTN: Graduate Division
5200 N. Lake Road, SSB 310
Merced, CA 95343

The first new American research university in the 21st century, with a mission of research, teaching and service.
University of California, Merced
5200 North Lake Road
Merced, CA 95343
T: (209) 228-4400

UNIVERSITY OF CALIFORNIA, MERCED | 5200 NORTH LAKE RD. MERCED, CA 95343
(209) 228-4400
© 2016 UC REGENTS