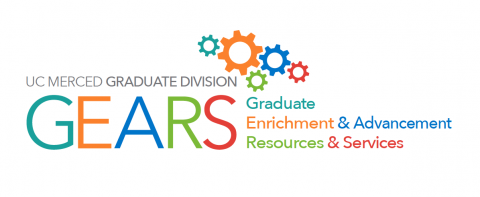 Graduate Enrichment and Advancement Resources and Services (GEARS) is the Graduate Division's multi-track professional development series designed to prepare graduate students for success while at UC Merced and beyond.
In addition to these opportunities, be sure to check out our virtual Graduate Resource Center, which contains a wealth of information that is helpful for students at all stages of their graduate careers.
Our GEARS tracks are as follows (click on each track to see a sampling of past programming):
The academic job market can be difficult to navigate under the best circumstances. If you are considering or have decided to pursue a career in the academy, be sure to check out these sessions. Topics range from how to prepare for the academic interview, discussions of post-doctoral fellowship opportunities, making the transition from graduate student to faculty, and how to thrive as faculty of color or international faculty.

Thinking about a career in business, government, or the non-profit sector? These sessions will help you to decide what type of position could be best for you. Join us for National Labs Day or any of the other workshops in this series — topics include how to choose between the academy and industry, how or if you should prepare for a postdoctoral position, the transition away from graduate school, and discussions of careers and opportunities in specific fields.

Working on a fellowship or grant application? Set yourself up for funding success with GEARS! Workshop topics include preparing your application materials, what specific committees may be looking for, and how to best market yourself for particular opportunities. Appropriate for those working on pre-doctoral, dissertation, or post-doctoral fellowship applications or various grant applications.

This series of forums and workshops will help you to navigate the publication process and identify outlets for your scholarly work. Some sessions in this track are geared to specific fields, while others offer broader topics applicable to all students interested in publishing their research.

Open to students working on dissertations, theses, articles, or grant/fellowship proposals, this intensive, 4- to 6-day workshop will help to kickstart or revitalize your writing process. As a Boot Camp participant, you will work with a small cohort of students in similar situations and help support and motivate each other to meet your writing goals. In addition to lots of quiet writing time, Dissertation Boot Camp offers elective group sessions that address common pitfalls and issues that many students encounter, stress and time management, and dissertation and thesis formatting at UC Merced. Individualized writing help is also offered, and meals and snacks are provided for participants. Apply early as space is limited!

Grad Slam is a UC-wide competition among graduate students in which students have three minutes to present their research in an interesting, informative manner. Grad Slam programming includes public-speaking workshops during the weeks leading up to the start of the multi-round competition. Ten finalists will be chosen from the Qualifying Rounds, and a campus Champion and two runners-up will be selected in the Final Round. The UC Merced campus Champion will go on to compete against other campus Champions in the UC systemwide competition. Cash prizes and bragging rights are at stake — be sure to sign up early for your chance to win!

Adjusting to Graduate School
The transition from an undergraduate education to graduate school is academically challenging. Expectations are different, as is working with a graduate advisor, and the students have more independence in doing their research. Also, graduate school presents new challenges in time management and juggling competing priorities between classwork, research, being a teaching assistant, and attending various meetings and presentations. This seminar will review and address these challenges and ways to overcome them, and the deans will answer questions and identify resources available to students to help transition into academic work at the graduate level.
---
Outside Opportunities
Opportunities for Current Graduate Students
Versatile Ph.D. - This website has a number of resources for Ph.D. students interested in non-academic career paths, including industry and government areas of employment, job listings, social networking, and meeting announcements. Students can become Versatile Ph.D. members for free, and UC Merced has an institutional membership that provides access to premium content.
Humanists@Work - The UC Humanities Research Institute invites UC humanities and humanistic social science graduate students to attend their next graduate career workshop November 8-9 in Sacramento. UCHRI will provide travel grants (covering roundtrip travel and one night of lodging) to three students from each UC campus. Deadline to apply for a travel grant is October 9.
Ted Fellows Program - Similar to our GradSLAM! competition, but on a much broader scale, TED Fellows learn how to talk about their great ideas in a way that is appealing to a variety of audiences. Applications have recently closed, but you can learn more about the program with plenty of time to prepare for the next cycle here.
Postdoctoral Funding Opportunities
University of California President's Postdoctoral Fellowship Program - The University of California President's Postdoctoral Fellowship Program was established in 1984 to encourage outstanding women and minority Ph.D. recipients to pursue academic careers at the University of California. The current program offers postdoctoral research fellowships, professional development and faculty mentoring to outstanding scholars in all fields whose research, teaching, and service will contribute to diversity and equal opportunity at UC. Fellowships are awarded for research conducted at any one of the University of California's ten campuses. The application due date is generally around November 1 of each year.
California Alliance Postdoctoral Fellowship Program - The California Alliance Postdoctoral Fellowship Program is now accepting applications for the 2018-2019 academic year. The California Alliance invites prospective applicants to apply with ONE application for postdoctoral positions at any of the four partner universities: Berkeley, Caltech, Stanford and UCLA. The California Alliance is a National Science Foundation-supported initiative to increase diversity among STEM graduate students, postdocs, and faculty. Applications will be accepted through mid-June 2018 for all institutions except for Caltech. All applications for Caltech are due by January 15. Reviews will be conducted in February for applicants to Berkeley, Stanford and UCLA. Pending available funds, a final review will be held in June.
Have an idea for a professional development series, workshop, or activity that you'd like to see from UC Merced Graduate Division? Be sure to email us!