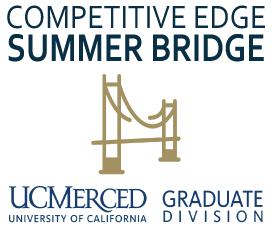 Graduate students face an unusual dilemma: as undergraduates, they were the smartest and most successful students in their classrooms. But when they first enter graduate school, they feel like the least knowledgeable students in the room, painfully aware of how much they still need to learn.
This radical shift comes at a time when they must quickly learn to navigate a new school and a new city — all the while juggling intense work, research, and study schedules. And while this poses a significant challenge for nearly all students, it is perhaps most difficult for those with a limited support network — such as first generation students or those from backgrounds typically underrepresented in higher education.
The UC Merced Competitive Edge Summer Bridge program addresses this critical point in a graduate student's development and helps to ensure that participants are better equipped to complete their degrees and go on to successful careers.
Graduate students who participate in this program:
Move to campus two months early for better acclimation
Are placed in a cohort to build early support structures
Begin work with advisors to get a head start on research techniques and projects
Attend tailored workshops and seminars designed to give them a broad foundation of professional knowledge
Work with funding experts to make significant progress on a major external fellowship proposal
---
Current Summer Bridge students: Check out the Summer Bridge Academic Journal Club