Outstanding Teaching Award
---
The Outstanding Teaching Award (OTA) is intended to recognize the valuable contributions of graduate students to teaching and pedagogy. Graduate student contributions include but are not limited to: UC Merced course development and instruction, as readers, teaching assistants, and lead instructors; participation in pedagogical training and development programs; and developing or delivering materials or instruction at professional workshops and summer schools. The award is intended to recognize a body of teaching and pedagogical contributions during the course of graduate education.
---
---
Eligibility Requirements & Standards
UC Merced Masters' and Ph.D. students may apply who are enrolled in 12 graduate units at the time of application.
Applicants should be in good academic standing and making normative or better progress towards their degree.
Applicants cannot be previous OTA award recipients.
Financial Support
Each award recipient receives a fellowship of $1,000.
Funds may be used specifically for costs of attendance (i.e. tuition, fees, books and supplies) or for general support (living, transportation, and personal expenses) necessary to support the pursuit of educational and career goals.
Student Loan Impact
Per federal guidelines, all fellowship and tuition support is taken into consideration when determining student loan eligibility. If you will receive federal student loans during the same academic year as this award, please note that this award could, and most likely will, reduce your student loan eligibility.
Application Procedures
Graduate students must complete the online application by April 7, 2017. The application is available at https://gradopportunities.ucmerced.edu/grad. The online application includes the following:

Unofficial UCM Transcript – (not required)
Curriculum Vitae (CV) – (not required)
Teaching Statement - (required)
Additional Documents – Teaching Evaluations (optional)
Letters of Recommendation – (required)

Statements must be within 1-2 pages describing the applicant's outstanding qualities in teaching. Evidence should be shown of creativity and/or extra effort in improving instruction and teaching effectiveness. The statement may comment on the applicant's rapport with students, availability, willingness to hold special help sessions, efforts to stimulate independent thinking, and any other contributions to instruction worthy of recognition.
One letter of recommendation is required, but up to three may be solicited. Names and emails must be provided under the Letters of Recommendation tab on the online application form. Letter writers will receive an email request for a letter of support for the applicant. Letters of Recommendation may include but are not limited to the Instructor of Record (if applicable), Faculty Advisor and any others who have direct knowledge of the applicant's performance. The letter of recommendation must be submitted by April 10, 2017 by 5pm.
Applications are provided to the Graduate Council (GC) for review, and GC makes recommendations to the Graduate Division. Review criteria include adherence to fellowship guidelines, and final award decisions are made by the Graduate Dean.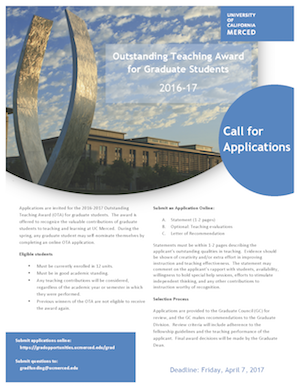 ---
Deadlines
Award Application:
April 7
Letter of Recommendation:
April 10
---
Outstanding Teaching Awardees - 2015-2016
Kathleen Coburn
Psychological Sciences
Stephen Dale
Chemistry and Chemical Biology
Jesse Wilson
Environmental Systems
Outstanding Teaching Awardees - 2014-2015
Sarah Abboud
Quantitative & Systems Biology
Nathaniel Bogie
Environmental Systems
Arthur Durazo
Psychological Sciences
Outstanding Teaching Awardees - 2013-2014
Reheman Baikejiang
Engineering
Jane Hyo Jin Lee
Natural Sciences
Marco Valesi
Social Sciences, Humanities and Art
Outstanding Teaching Awardees - 2012-2013
Gary Abel
Natural Sciences
Amy Moffat
Social Sciences, Humanities and Art
Christiane Pailo
Engineering
Outstanding Teaching Awardees - 2011-2012
Julie Phillips
Natural Sciences
Bodo Winter
Social Sciences, Humanities and Art
Michael Eissinger
Social Sciences, Humanities and Art
*The Graduate Division reserves the right not to make an award in any given year for which a call for applications has been issued.
Contact Us
Graduate Admissions:
Phone: (209) 228-4723
Graduate Funding:
Phone: (209) 228-4622
General Inquiries:
Phone: (209) 228-4723
Fax: (209) 228-6906
Mailing Address:
University of California, Merced
ATTN: Graduate Division
5200 N. Lake Road, SSB 310
Merced, CA 95343

The first new American research university in the 21st century, with a mission of research, teaching and service.
University of California, Merced
5200 North Lake Road
Merced, CA 95343
T: (209) 228-4400

UNIVERSITY OF CALIFORNIA, MERCED | 5200 NORTH LAKE RD. MERCED, CA 95343
(209) 228-4400
© 2016 UC REGENTS