Where is UC Merced?
Be prepared: Your friends and family are going to ask where Merced is. Just tell them this: Merced is in the middle of everything.
In the Middle of Everything
UC Merced is located in the center of California's northern Central Valley. Merced is your quintessential small town, with a tree-lined downtown filled with mom-and-pop shops, restaurants and a theater, but with amenities that a larger town might have, such as a mall and larger eateries.
Merced is also centrally located, which means that if you schedule a route north, south, east or west in your map app, you'll run into a city or attraction that's easy to get to.
Gather your roommate and some friends, check out marine life at Monterey Bay Aquarium, explore the diverse neighborhoods in San Francisco, go skiing at Dodge Ridge, or sit on the beach during the day and hit the boardwalk at night in Santa Cruz.
7 Destinations within 2 Hours of UC Merced
Yosemite National Park. There's a reason why Yosemite is considered one of the wonders of the world. UC Merced students regularly take advantage of the fact that being one with nature is only a short drive away.

San Francisco. Golden Gate Bridge. Clam chowder in a sourdough bowl (but take a picture of it first). Diverse neighborhoods. Giants games. Alcatraz (spoiler alert: no actual inmates).

Santa Cruz. Dozens of beaches by day, boardwalk arcades and rides by night. A movie on the beach or monarch butterfly sightings if you time your trip right.

Monterey Bay Aquarium and Cannery Row. Stunning marine life up close, rocks on the shore to climb afterward, and a famous waterfront street to wander once your shoes and socks are soaked.

Dodge Ridge and China Peak. Skiing and snowboarding. (Hot cocoa in the lodge is okay, too.) Selfies in the snow!

Sacramento. State capitol tours. Gold Rush-era buildings, restaurants and museums in historic Old Sacramento. (The state fair takes place here, too. Ferris wheel selfies!)

Gold Country. Quaint and thriving downtowns in Columbia, Jamestown, Murphys, Sutter Creek and more. Gold panning and live re-enactments for your history fix.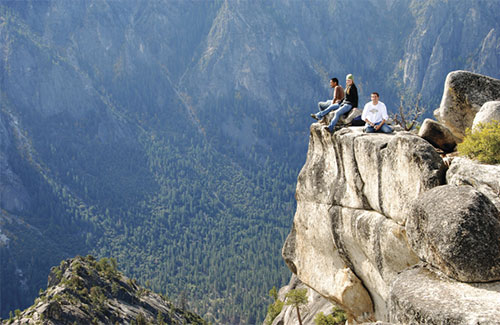 Yosemite: Our Majestic Neighbor
You know those photos on Instagram and Twitter of people hiking trails, climbing rocks and river rafting? There's a good chance they're snapping those selfies in Yosemite National Park, at Half Dome, El Capitan, or Bridalveil and Yosemite Falls.
Merced is called the Gateway to Yosemite for a reason. We're only 2 hours from Yosemite Valley. You also can take advantage of the Yosemite Area Regional Transportation System (YARTS), buses that will pick you up on campus and take you to the park; no driving required.