The first annual UC Merced GradSLAM! finals are coming up on Tuesday, April 7 from 1:30 to 3:30 in the California Room. Our 10 finalists will have just three minutes each to present their research to our panel of non-specialist judges. The first-place winner will get $2,000 and will go on to compete in the systemwide UC Grad Slam on May 4. Two runners-up will receive $1,000 each.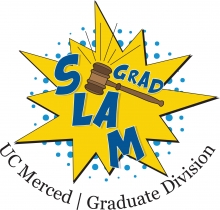 We are delighted to officially introduce our distinguished judges for the competition below:
Dr. Thomas Peterson - Dr. Peterson is the Provost and Executive Vice Chancellor for UC Merced. Prior to being appointed as Provost, he was the assistant director of the Engineering Directorate at the National Science Foundation. He also served for 32 years as an engineering faculty member, department head and dean at the University of Arizona. He holds a Ph. D. in chemical engineering from the California Institute of Technology.
Dorothy Bizzini - Mrs. Bizzini is the Owner and Property Manager of Bizzini Properties. Mrs. Bizzini also plays an active role in the community, serving on numerous boards including the UC Merced Foundation Board of Trustees and the California State Stanislaus Foundation. She received her MBA from Sacramento State University.
Dr. Phyllis Nusz - Dr. Nusz is a current member of the UC Merced Foundation Board of Trustees. She is founder and owner of PJ Enterprises, a Stockton-based firm that specializes in marketing, event, and public relations consulting. She is active with Rotary International and received the Rotary International Service Above Self Award in 2006. She earned her doctorate at the University of the Pacific.
Jack Oswald - Mr. Oswald is a current member of the UC Merced Foundation Board of Trustees. He is CEO of SynGest, Inc., a San Francisco based company using biomass gasification processes to produce fertilizers and energy. Mr. Oswald serves as special delegate to the U.S.–China Clean Energy Forum and is a Founding Board Member of the Clean Economy Network Foundation. He earned a B.S. in Engineering from Dartmouth and his MBA from Harvard Business School.
Mayor Stan Thurston - Mayor Thurston graduated from Pepperdine University and practiced law for 25 years before returning to Merced to enter Public service. He was a member of the Merced City Council form 1995 until 2003 and is now serving his second term as the mayro of Merced. He is also the chair of the Merced County Association of Governments. 
Supervisor Hub Walsh – Supervisor Walsh has actively served the county of Merced for more than 25 years. In addition to other roles within our county, he was elected and served two terms on the Merced City Council, and two terms as the mayor of Merced. He has been a Merced County Supervisor since 2008. He earned his master's degree from Pacific Lutheran University and his MBA from California State University, Stanislaus.
Be sure to join us in welcoming our judges and supporting your colleagues on Tuesday afternoon!