UC Merced graduate students Theo Crouch II and Lauren Edwards recently were awarded fellowships from the National Science Foundation (NSF) Graduate Research Fellowship Program (GRFP).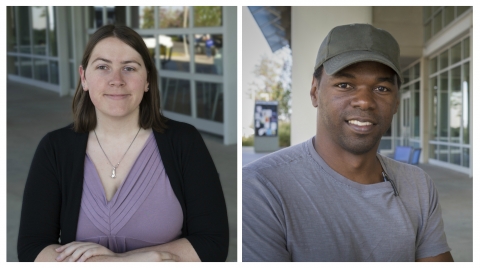 Jessica Ross was recognized as an honorable mention by the GRFP, while Patricia Cabral received an honorable mention from the National Academies of Science and Engineering's Ford Predoctoral Fellowship Program. The news comes on the heels of cognitive science student David Vinson's selection for an intensely competitive $30,000 IBM Ph.D. Fellowship Award.
"Each year, these programs invest in a highly select set of students who have demonstrated the potential for meaningful achievements in their field," said Vice Provost and Graduate Dean Marjorie Zatz. "I am absolutely delighted that our students are being recognized as some of the nation's most promising future scientists and engineers."
The NSF GRFP honors and supports outstanding graduate students in NSF-supported science, technology, engineering and mathematics (STEM) disciplines who are pursuing research-based master's and doctoral degrees.
Crouch and Edwards will each receive $34,000 per year for three years, while the university receives $12,000 in institutional support for each of the three years. This year, there were 16,500 applicants to the program — 2,000 fellowships were awarded, and 2,004 honorable mentions were acknowledged.
"It hasn't really sunk in yet," Edwards said, "but this is an amazing opportunity, and I'm thrilled to have been selected."
Crouch and Edwards are both members of Professor Fabian Filipp's Systems Biology and Cancer Metabolism group.
Crouch is in the second year of his doctoral program. In one of his key projects, he is investigating alternative approaches to cell or tissue health and growth using biological experiments and computational techniques.
Edwards, a first-year student, is studying metabolic switches in humans to better understand how metabolism is controlled through a cell. If she can identify particular genes that have an effect on metabolism when they are turned on or off, she may be able to use that knowledge for a variety of applications, including the treatment of cancer patients.
While honorable mentions do not receive any funding from the foundations, the UC Merced Graduate Division has awarded both Ross and Cabral a Graduate Dean's Fellowship in the amount of $5,000 in acknowledgment of their achievements.
Ross is a second-year student who works with Ramesh Balasubramaniam in the Cognitive and Information Sciences program. She studies motor control with a focus on how sounds are related to body movement.
Cabral is a psychology student working with Professor Jan Wallander. She investigates health risk behaviors among adolescents and young adults, and how they contribute to differences in health outcomes across racial/ethnic groups — particularly in the Latino community.
Ford Predoctoral Fellowships are awarded to students who have demonstrated superior academic achievement and show promise of future achievement as scholars and teachers, are committed to a career in teaching and research at the college or university level, and are well prepared to use diversity as a resource for enriching the education of all students. Out of 1,500 applications, 60 fellowships and 400 honorable mentions were awarded.