Two University of California, Merced graduate programs have been ranked by U.S. News and World Report for the first time since classes began in 2005.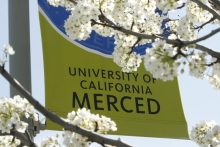 The School of Engineering's programs are ranked at 140 and Psychological Sciences at 158.
Rankings for these programs are expected to improve rapidly now that UC Merced has crossed the rankings threshold, and it is likely that other UC Merced graduate programs will be added to the rankings over the next few years.
"Our graduate programs offer students exceptional opportunities for disciplinary and interdisciplinary research training. It is exciting to see that these programs have already gained national recognition," Vice Provost and Dean of Graduate Education Marjorie Zatz said. "Our programs are growing rapidly, and the quality is extremely high. UC Merced is on the move."
See the full story here.