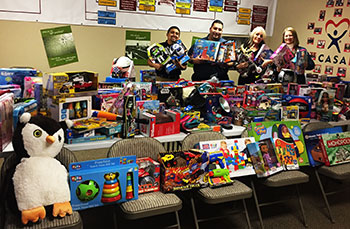 From canned food to toys, UC Merced campus members enthusiastically contributed to a host of philanthropic activities this holiday season, all of which benefit the greater Merced community.
These efforts further the campus's goal of improving the quality of life for individuals, families and communities throughout the San Joaquin Valley.
The Chancellor's Toy Drive, hosted by the
Office of the Chancellor
and
Staff Assembly
, took place Dec. 16. Faculty and staff members donated between 250 and 300 new, unwrapped toys that will benefit Court Appointed Special Advocates (CASA) for children of Merced County. 
"We appreciate the campus community's support for the foster children we serve," said Shar Herrera, executive director for CASA of Merced County. "We are excited to be able to have Santa fill the wish lists for these kids."
Meanwhile, the
Office of Student Life
(OSL) Civic Leadership coordinated A Home for the Holidays, an outreach program that supports All Dads Matter. 
Individuals or departments chose an envelope from small holiday trees located on and off campus, and purchased requested items for each child listed. They wrapped the gifts and dropped them off at OSL to be picked up by All Dads Matter last week.
"This year, we were able to provide holiday gifts for 50 families," OSL Associate Director Vernette Doty said. "We are extremely grateful for the generosity of our campus community in supporting this outreach opportunity."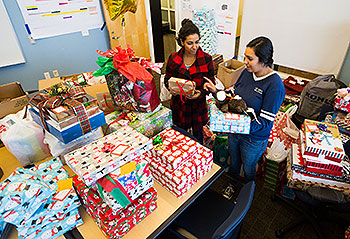 Several departments and groups got an early start on their charitable work by hosting events and activities held over the past couple months:
During October, the Campus Advocacy, Resources and Education (CARE) Office organized "UC Merced CAREs Boxes," a community service project to support the Valley Crisis Center. In all, campus departments and individuals collaborated to donate 32 boxes filled with new clothing, self-care products and personal hygiene items for survivors of domestic violence.
The campus' Student Athlete Advisory Committee (SAAC) hosted "Sock-tober," a sock drive competition between athletic teams. The teams collected 2,217 new and gently worn pairs of socks for homeless people in Merced. The UC Merced women's basketball team donated 769 pairs to win the competition. The socks were given to the Merced County Community Action Agency.
UC Merced's Staff Assembly organized two events. During a Fall Staff Social and Canned Food Drive, staff members donated more than 300 items for the UC Merced Food Pantry. In late October, the group participated in a Poppies Galore project. Staff members glazed ceramic poppies that will be part of a community art project at Bob Hart Square in downtown Merced. Eighty-nine campus members donated money to glaze poppies. Proceeds benefited the Valley Crisis Center and Room at the Inn.
Transportation, Parking and Fleet Services (TAPS) launched a canned food drive in November to help "drive out hunger in Merced." The drive collected approximately 300 nonperishable goods that were donated to the Merced County Food Bank.