UC Merced had a strong showing at this year's International Entomology Conference in Orlando, Florida. Public Health graduate student Eunis Hernandez presented a research poster titled 'Environmental and Socioeconomic factors associated with West Nile virus cases.' She was accompanied at the conference by her advisor, Assistant Professor Andrea Joyce.
Three additional UC Merced students were in attendance: Undergraduate Research Opportunities Center (UROC) student Ryan Torres, who also presented a poster, and two former UC Merced undergraduates who minored in Public Health, Karen Cedano and Andrew Loera.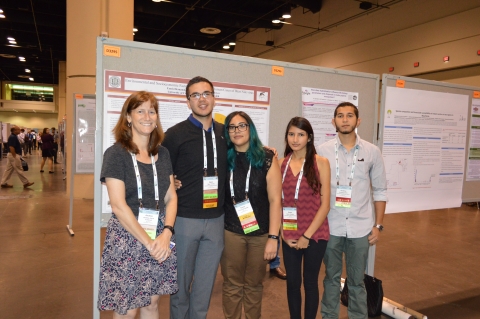 Left to right: Professor Andrea Joyce, Ryan Torres, Eunis Hernandez, 
Karen Cedano, and Andrew Loera.