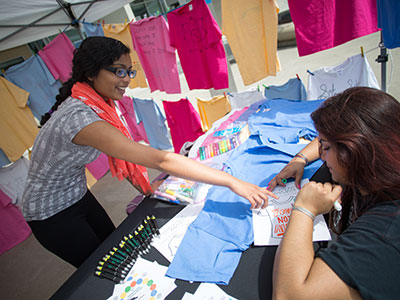 April marks Sexual Assault Awareness Month (SAAM) on campus and across the nation. A series of events hosted by UC Merced's Campus Advocacy, Resources and Education (CARE) Office. give campus community members opportunities to increase awareness and advocate for sexual assault prevention and intervention programing.
A highlight of this month's initiatives is a stage production of "The Vagina Monologues," a series of monologues and multi-voice pieces adapted from interviews with women that addresses issues of womanhood, sexuality and strength and ending violence against women. More than 25 UC Merced undergraduate and graduate students are the cast and crew. CARE Office Program Coordinator Taylor Fugere is lead of the production team, other members are UC Merced student Jovita Angel and Valley Crisis Center volunteer José Martínez.
"Sexual violence is not just a women's issue; it is a community issue," Director of the CARE Office Yesenia Curiel said. "Sexual violence does not discriminate based on gender, class or race."
The production is hosted by the student group VOICES, and is sponsored by the CARE Office, Chancellor's Advisory Committee on the Status of Women, the Center for the Humanities, Women's Programs in the Office of Student Life and Arts UC Merced Presents.
Showings are at 7 p.m. April 28, 3 p.m. April 29, and 5 p.m. April 30 in the Lakireddy Auditorium. Tickets are $5 and proceeds benefit Valley Crisis Center.
Some other activities include:
SAAM Day of Action — 10 a.m. to 2 p.m. April 4 on Scholars Lane.
Learn that you don't need super powers to be a super hero at the SAAM kick-off.
Clothesline Project — 10 a.m. to 2 p.m. April 4 and 5 on Scholars Lane.
Students and others can participate by painting, drawing or writing personal messages relating to sexual assault and prevention on T-shirts. The decorated tees will be displayed throughout the week.
Pride Week Workshop — 5 p.m. April 6 in the Bobcat Lair.
Discuss healthy relationships and sex positivity in the queer and transgender community.
Changing the Rules Tabling Fair — 2-4 p.m. April 11 on Scholars Lane.
Learn more about preventing sexual violence on campus. Free churros and T-shirts. Hosted by VOICES.
Denim Day Art Competition — 10 a.m. to 2 p.m. April 26 on Scholars Lane.
Help stop victim-blaming by wearing jeans in support of international Denim Day. Campus departments and student organizations are encouraged to decorate pairs of jeans with positive messages. Jeans will be collected April 19 and be on display for judging April 26.
"I invite you to participate in at least one SAAM activity this month," Curiel said. "As a community, each of us can make a difference by being a part of the solution."
Visit the CARE Office in the Leo and Dottie Kolligian Library, Room 107, by using the new main entrance located on the side facing the Classroom and Office Building 2 courtyard. This will help ensure that survivors have two entrances and exits for more privacy and safety.
For information on SAAM events, email Taylor Fugere at tfugere@ucmerced.edu.