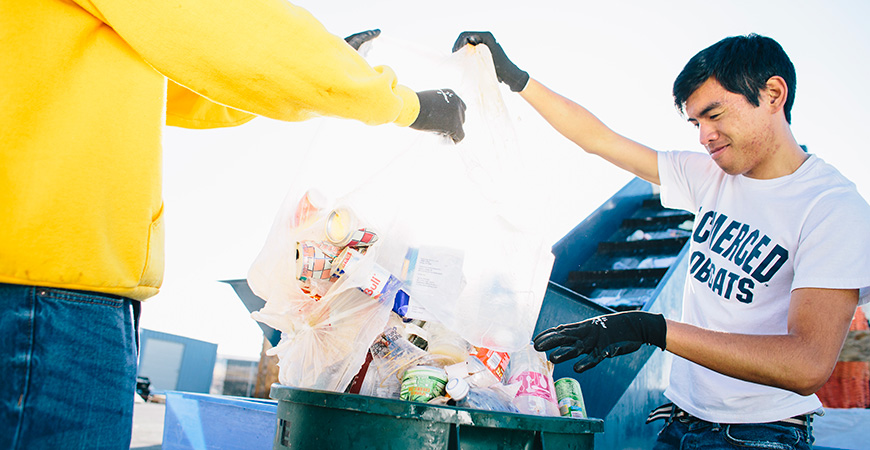 When Chigoziri Ibechem attended her first planning commission meeting in downtown Merced last November, she had no idea where it might lead.
After the meeting, the psychology major from Los Angeles was greeted by the city of Merced's principal planner, who noticed her enthusiasm for the city's Local Transportation project. He invited her to apply for an internship program UC Merced's sustainability office launched earlier this year to give students education and applied learning opportunities in sustainability-related careers.
Energize Colleges is a workforce development and training program led by nonprofit Strategic Energy Innovations. UC Merced is one of 12 college and university campuses across California that offer undergraduate students internships through the program to build a qualified workforce for long-term energy and environment solutions.
"It's exciting to see the opportunity for students to get more engaged with what's happening at UC Merced, especially with the UC Carbon Neutrality Initiative," Deputy Director of Strategic Energy Innovations Steve Miller said. "To meet the state's ambitious climate energy goals, it's going to take professionals at all levels — technicians and trades folks, communicators, educators, researchers and policy makers."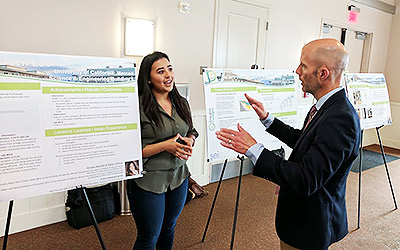 Ibechem was one of 29 UC Merced students who were selected for 16 on- and off-campus internships in eight sustainability-related career pathways appropriate for the Merced area, like transportation, building efficiencies and renewable energy.
"UC Merced has exceeded our expectations with the quality and diversity of internships," Miller said. "We worked with campus and community partners to identify three times the number of interns we expected."
Ibechem's project focused on increasing walking and biking in Merced.
"We really wanted to focus on the locations in Merced that aren't safe to bike and walk, especially in the disadvantaged communities in South Merced," Ibechem said.
She formed a focus group of community members, and members of the city's Housing Division and Parks and Recreation. During a meeting in early May, they pored over a map of Merced and gathered valuable input on the transportation challenges residents face.
"By locating existing unsafe conditions, we'll be able to incorporate that into our plan," she said. "Next year when we apply for a grant, the city can start working toward improving those areas."
We really wanted to focus on the locations in Merced that aren't safe to bike and walk, especially in the disadvantaged communities in South Merced.
Anissa Abdullah, a chemistry major from Modesto, and Karen Ochoa, a physics major from Oakland, spent their internship working on the Green Labs Initiative with Professor Mike Dawson and Assistant Director of Sustainability Mark Maxwell. The team looked at ways to employ green or sustainable practices on campus, including reducing energy- and water-related costs, increasing safety through the use of smaller chemical quantities, and enjoying longer-lasting lab equipment through efficient use.
They found that simple changes — like using recyclable gloves, switching to LED light bulbs and labeling what equipment to turn off when a lab is vacated — could mean costs savings and substantially help the environment.
"When you are a chemistry student in the lab, you're not really thinking about energy consumption," Abdullah said. "But seeing how much is being used and how much could be saved was eye-opening." 
The campus's reputation and programs are mature enough so that students can really be active agents in the community.