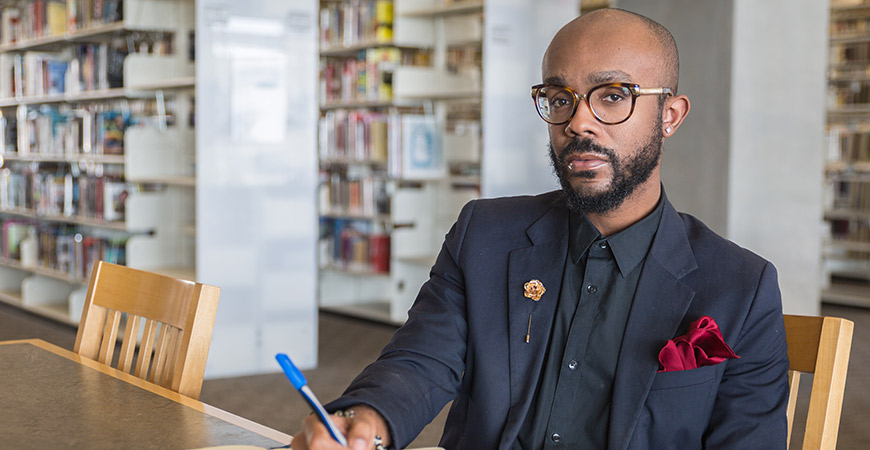 Working in education over the years, I have learned to never let inhospitable and toxic circumstances destroy one's soul, but to use education as a way to empower, transform, radically heal and cultivate seeds of hope.
Growing up in Carson, I was constantly reminded of the five faces of oppression: exploitation, marginalization, powerlessness, cultural imperialism and violence. However, the works of Audre Lorde, bell hooks, James Baldwin, Gabriel Garcia Marquez, Gloria Anzuldua and Assata Shakur helped me recognize the power and value of my voice, the importance of being an agent of change, and the magnitude of my gifts. Dedicating my life to social change, I now encourage students to position themselves as architects of their own journey.
Many wonder how to successfully position students as architects of social change and ensure that their environment is one rooted in community, criticalness and care. Additionally, many stakeholders wonder how the Division of Student Affairs is addressing various challenges we face as a community as we continuously grow and expand to ensure our students are successful.
In Students Affairs, we recognize that student success is holistic and results from collaboration and shared responsibility among all stakeholders. The division is committed to student success and has prioritized increased access and retention (intentional efforts to increase student access, persistence, engagement and success); building a community of scholars (developing comprehensive strategies to sustain and grow our practices); and innovative and integrative education (university-wide collaboration to reach and engage all students).
In my time here, I have recognized that the campus faces many challenges. However, I have also witnessed the time, energy, love and pure devotion students, staff and faculty have embodied to ensure UC Merced continues to thrive and that students continue to succeed.
I am often asked how social change comes about and how to navigate such a tumultuous and bureaucratic landscape as a student. Over the years, I have been developing a comprehensive framework rooted in Critical Race Theory, Community Cultural Wealth and Models for Community Organizing that speaks to positioning students as architects of social change. Thus, we must always ask of ourselves and others:
Ideals:
What challenges does the community face?
Are these challenges consistent across and within the community?
What is the envisioned ideal?
Is the ideal consistent across and within the community?
Knowledge:
Why is the ideal important?
What empirical data/evidence exists?
How does theory inform practice?
What are possible counterarguments that may surface?
What are potential limitations/challenges that may come about?
Do local, state and national policies impact the ideal?
What resources are needed? How does one obtain them?
Strategy:
Who are relevant stakeholders?
Who are a part of your support network?
What strategies are best to address your ideals?
What are potential consequences of each strategy?
How do you ensure your ideals are sustained?
How do we hold ourselves and others accountable?
Dedicating my life to social change, I now encourage students to position themselves as architects of their own journey.
In doing so, I believe in building and sustaining an environment where students, staff, faculty and the larger community are successful. I focus on building structures and systems to enhance campus climate, improving student success outcomes, and ensuring that inclusive excellence is a cornerstone of our processes and procedures. As the associate vice chancellor and dean of students, I seek to holistically promote student development and advocate for student success through intentional programs and initiatives, collaborative partnerships, and policy/procedural development that enhances campus climate and facilitates the successful navigation of campus life. For additional information about the work and services provided, visit http://studentaffairs.ucmerced.edu/dean-students.
I am equipped with the fighting desire to ensure our campus continuous to grow and thrive. However, it will take all of us working collaboratively and innovatively. As you think about your role as an architect of social change:
Be motivated, not manipulated.
Be useful, not used.
Make changes, not excuses.
Release all doubts about your ability.
Chose self-esteem over self-pity.
Continue growing and learning as education is a form of liberation.
Allow yourself to embrace all that you are in every moment.
Every day I think of what a precious privilege and gift it is to be alive, to breathe, to think, to enjoy, to love and to empower. I hope you all recognize that there is something inside you that is greater than any obstacle, greater than even you may know or recognize. You all have the power to ensure how your story ends. Please understand that this is your life, your story, your book. Never let anyone else write your pages nor apologize for the edits you make.
Jonathan R. Grady is the Associate Vice Chancellor and Dean of Students at UC Merced.