Last month, the UC Merced Alumni Association (UCMAA) established the UC Merced Alumni Association Journey Endowment with $25,000 it collected through fundraising efforts to support initiatives throughout campus.
Over the past several years, UC Merced alumni — especially UCMAA board members — have directed contributions to the alumni association to support the educational journeys of current and future students.
"I am eternally grateful to the board members and alumni donors for their leadership and vision, which helped us achieve this historic milestone in less than six years," UC Merced Alumni Association President Keith Ellis (2012) said. "Students and alumni will benefit from this endowment for many decades to come."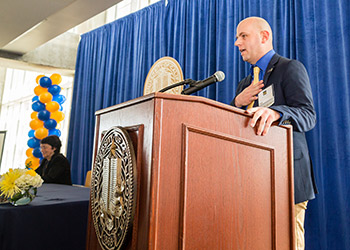 The alumni association impresses upon students and alumni the importance of giving back to their alma mater to create a legacy.
Endowment proceeds help fund the alumni association's mission of connecting alumni to the university and to each other and supporting the university's larger mission of teaching, research and service.
The endowment can also help undergraduate and graduate students who have exhausted their financial aid options and have additional needs.
The UCMAA Journey Endowment Fund provides a firm financial foundation for the association that will last in perpetuity as a testament to all alumni's commitment to education.