Now ubiquitous, machine learning has made its way into farming, thanks to an affordable, unmanned ground vehicle that recognizes and spatially maps agricultural pest infestations, treating them with "surgical precision spraying."
New, award-winning robot-driven technology developed by a team of UC Merced graduate and undergraduate researchers from the Mechatronics, Embedded Systems and Automation (MESA) Lab is helping drive the evolution of food production.
The students' robotic system has the potential to revolutionize farming by making it more sustainable, economically viable and healthier for the growing global population.
The robot also won the team first place in UC Berkeley's Big Ideas contest, standing out from more than 300 submissions in the Food Services category. The Big Ideas award comes with $10,000 and recognition for "outstanding creativity, innovation and potential for social impact."
Working with mechanical engineering professor YangQuan Chen, Ph.D. student Haoyu Niu developed Intelligent Bugs Mapping and Wiping — iBMW — a autonomous robot, for farmers. Recent graduates Tiebiao Zhao, Ph.D. ('17) and Emery Silberman ('17) also contributed to the project.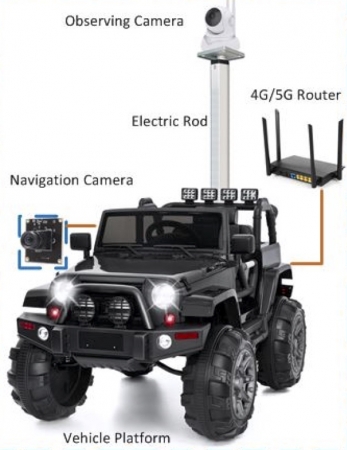 Using deep neural networks, the iBMW robot identifies and maps bug species and concentrated populations at specific locations in fields. Based on these mapping results, the iBMW pinpoints bug infestations by "wiping" them with a precise amount of pesticide, reducing the need for massive mechanical sprayers.
Targeted treatment results in less use of toxic insecticides, saving time, reducing production costs and increasing crop yields. Reducing the amount of pesticide released into the atmosphere means less air and water contamination — often the environmental impacts of commercial farming operations. Each iBMW robot costs less than $1,000, which can be recovered by minimizing the voluminous amount of chemicals deployed by commonly used floating sprayers.
"We are so pleased that our team from the MESA Lab won this prestigious contest, a first time win for UC Merced," said Chen, director of the MESA Lab in the School of Engineering. "My lab's motto is "Mechatronics for Sustainability."
"My academic goal is to become an expert specializing unmanned ground vehicle technologies with application to precision agriculture, such as irrigation scheduling, pest management, and pesticide applications, graduate student and team member Niu said. "I believe the MESA Lab and UC Merced will provide me the experience and knowledge I need to progress into this highly meaningful field of study."