Graduate Orientation Week (GROW)
Graduate Orientation Week (GROW) encompasses a number of workshops, training programs and events held at the beginning of each academic year to introduce new students to the campus community and prepare them to start their graduate studies at UC Merced. GROW begins on Monday, August 15th, 2022.
GROW will be held in-person and attendance is required by all incoming students. August 15th is a milestone at the start of each year because it is the date by which all new graduate students should be registered as students and paperwork completed for employment (more info soon about paperwork processes this year). Note that many of the trainings during GROW will be held synchronously and asynchronously. In addition to your in-person training, we will be using Catcourses - a campus-wide system used for teaching, research, and collaboration purposes. Each student will be assigned particular trainings that are required for all UC Merced graduate students, including a TA training, Sexual Harassment and Prevention training, Office of Research training and more.
Be sure to check your UC Merced email for updates and reminders for upcoming GROW & pre-GROW events.
GROW registration is now open! Please sign up at your earliest convenience. The GROW registration is closed.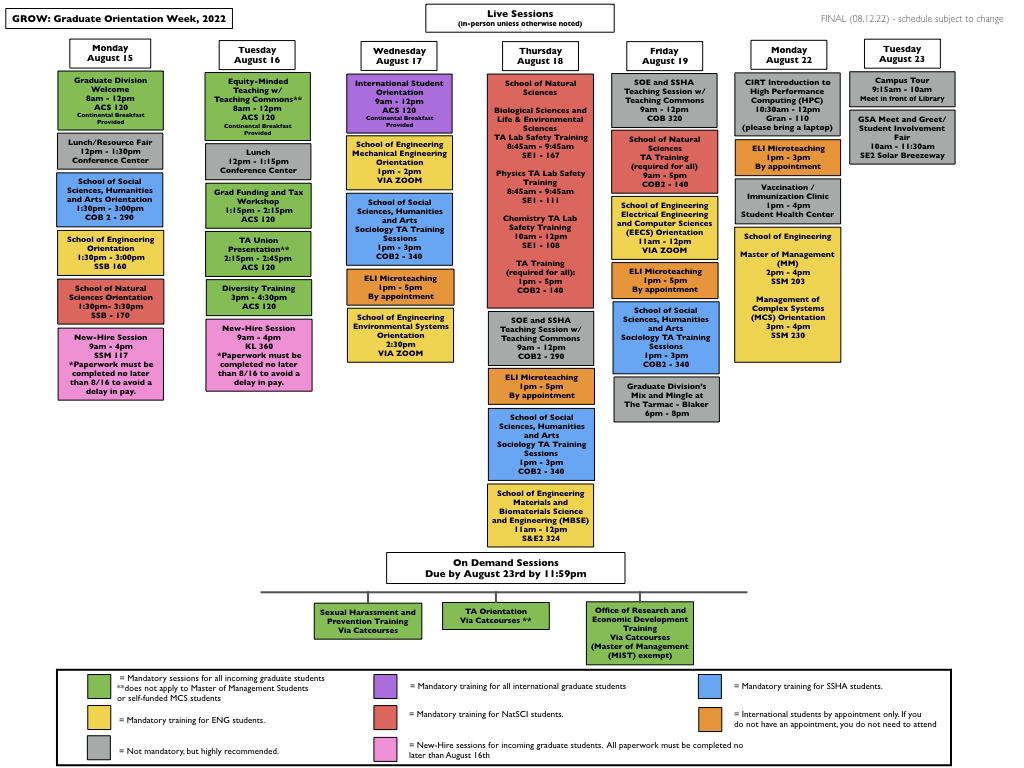 **Note that the schedule is subject to change. 
View Previously Sent GROW Email Communications
---
---
Contact Information: 
For general GROW related questions, please contact: gradresources@ucmerced.edu
Engineering: soe-grstaff@ucmerced.edu
Natural Sciences: snsgradstaff@ucmerced.edu
Social Sciences, Humanities and Arts: ssha.grad@ucmerced.edu
---
Additonal GROW Information:
Instructions for Class Registration