Graduate Orientation Week (GROW)
Graduate Orientation Week (GROW) encompasses a number of workshops, training programs, and events held at the beginning of each academic year to introduce new students to the campus community and prepare them to start their graduate studies at UC Merced. GROW begins on Tuesday, August 15, 2023.
GROW will be held in person and attendance is required by all incoming students. August 15 is a milestone at the start of each year because it is the date by which all new graduate students should be registered as students and paperwork completed for employment (more info soon about paperwork processes this year). Note that many of the training during GROW will be held synchronously and asynchronously. In addition to your in-person training, we will be using Catcourses - a campus-wide system used for teaching, research, and collaboration purposes. Each student will be assigned particular trainings that are required for all UC Merced graduate students, including TA training, Sexual Harassment and Prevention training, Office of Research training, and more.
Be sure to check your UC Merced email for updates and reminders for upcoming GROW and PreGROW events.
---
GROW SCHEDULE
**AN UPDATED VERSION WAS ADDED ON 08/10/23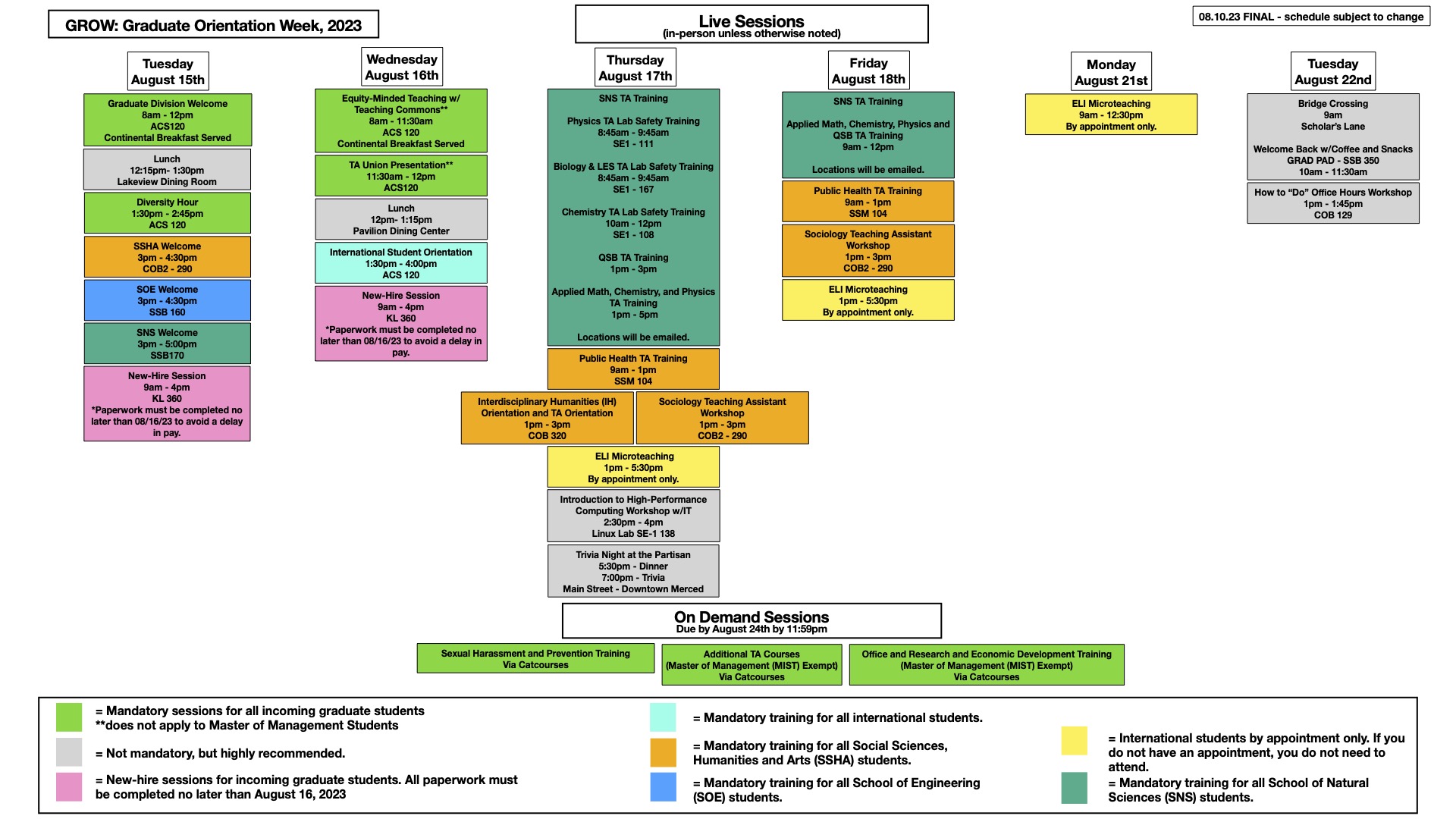 ---
GROW CAMPUS MAP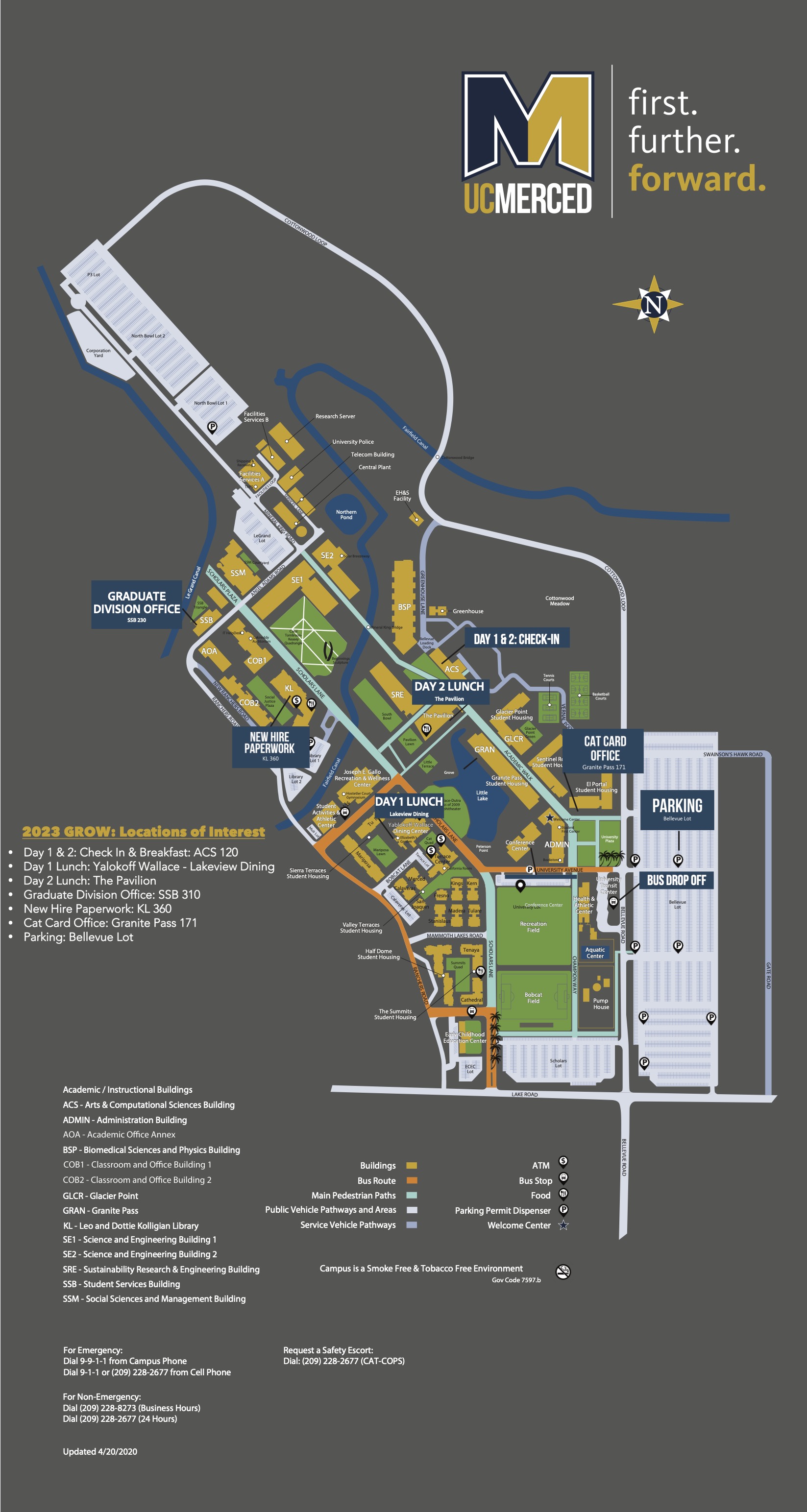 ---

PreGROW Webinar Series
PreGROW is a webinar series designed to provide important information on navigating the transition to graduate school. Below are the dates and sessions that will be held in the months leading up to your arrival on campus. We encourage you to attend as many sessions as possible to ensure that all of your questions are answered. PreGROW registration links will be provided in future email communications. Recordings will also be available if you are unable to attend the live ZOOM sessions.
PreGROW Sessions
Date
Time 
Session
Wednesday, June 21
1 pm PST

Welcome to UC Merced Office Hour with Graduate Division Staff

Join the Graduate Division team during this PreGROW office hour! During this session, our team will briefly go over important action items to help you prepare for GROW and your arrival to campus. We will then open up the chat to answer any questions you may have. Participating team members from Grad Admissions, Grad Funding & Grad Resources will be on the webinar and ready to connect with you!

Wednesday, June 28
9:30 am PST

Office of International Affairs (OIA) Office Hour

Staff from the Office of International Affairs will go over important action items to help International students prepare for GROW and your arrival to campus. Participants will also have the opportunity to connect with staff during Q&A.

Wednesday, July 12

1 pm PST

New Hire Paperwork and Grad Funding Workshop

During this webinar, UC Merced Payroll Services and Graduate Student Funding representatives will discuss the process for submitting your new hire paperwork, navigating grad funding, and preparing for taxes.

CANCELLED- the session will be rescheduled; watch your email!

Wednesday, July 19

1 pm PST

Health Services Workshop

What to expect during this session: learn more about health services, insurance, and vaccination requirements during this webinar. Hosted by Crystal Reed, Health Insurance Administration Supervisor and Michelle Law, LVN.

Wednesday, July 26
1 pm PST

Effective Working Relationships with Your Advisor Workshop

During this session, Dr. Sayantani Ghosh, Graduate Division's Associate Dean and Maria Nishanian, Graduate Academic Counselor will discuss how to successfully navigate your relationship with your faculty advisor. This webinar will also feature a Q&A.

Wednesday, August 2
1 pm PST

Preparing for GROW: Graduate Division Office Hour

Log in and connect with the Graduate Division team! Our team will be available to answer any of your last-minute questions during this open office hour before GROW begins.
---
Additional GROW Information:
Instructions for Class Registration
Microteaching Language Evaluation Information
Admitted Student Webpage & Resources
GROW Email Messages: