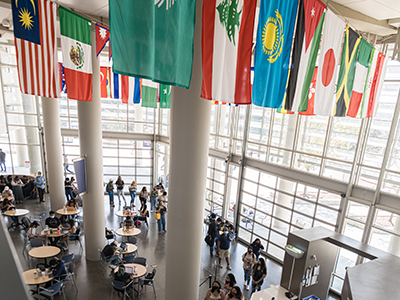 UC Merced is dedicated to actively recruiting and retaining a graduate student body that brings together individuals from various backgrounds and life experiences.
Diversity among students, faculty, and staff is critical to the educational and research enterprises of our University, which rely on a wide range of perspectives to nurture innovation and creativity across various disciplines.
We strive to create the most inclusive environment possible and welcome everyone who aspires to contribute to higher education and the advancement of knowledge.
---
Principles of Community
The UC Merced Principles of Community, issued on March 25, 2014,  were developed by the Chancellor's Advisory Council for Campus Climate, Culture and Inclusion in collaboration with the campus community.
We recognize and celebrate the identities, values and beliefs of our community.
We affirm the inherent dignity and value of every person while cultivating a campus climate rooted in mutual respect and compassion.
We uphold the right to freedom of expression and encourage a culture of dialogue, understanding, and civility in all interactions. We seek to create a campus where a rich tapestry of ideas is shared, collaboration is embraced, and innovation is promoted.
We pursue excellence in teaching and learning through contributions from all community members fostering a culture of open exchange.
We promote opportunities for active participation and leadership in our communities.
We champion civic engagement, environmental stewardship, research and teaching that connect theory and practice to learning and doing.
We take pride in building, sustaining and sharing a culture that is founded on these principles of unity and respect.
These principles reflect our ongoing efforts to increase access and inclusion and to create a community that nurtures lifelong learning and growth for all of its members. We encourage every member of the UC Merced community to join us in our collective pursuit of these principles.
Download the Principles of Community here.
---

In March 2016, UC Merced Chancellor Dorothy Leland launched the Chancellor's Dialogue on Diversity and Interdisciplinarity, a continuing series of lectures that will bring leading scholars to campus to discuss pressing issues confronting higher education today. At UC Merced, we value inclusion of multiple perspectives in all we do—in our interdisciplinary scholarship and in our strong commitment to diversity and inclusion among our students and faculty and staff members.
The Chancellor's Dialogue is designed to explicitly link these core values through a series of conversations  — among administration, faculty, students, and community members — as well as public lectures. 
See more information on the talk and related events here.
Ibram X. Kendi | May 5, 2017

Ibram [EEE-BRUM] X. Kendi [KEN-DEE] is a New York Times best-selling author and award-winning historian at the University of Florida. His second book, Stamped from the Beginning: The Definitive History of Racist Ideas in America, won the 2016 National Book Award for Nonfiction and was recently named a finalist for the 2016 National Book Critics Circle Award. Stamped was also nominated for the NAACP Image Award for Outstanding Literary Work in Nonfiction.

Described as "engrossing and relentless" by The Washington Post named Stamped the most ambitious book of the year. Stamped was also named to Best Books of 2016 lists in the Boston Globe, Kirkus, The Root, Chicago Review of Books, and Buzzfeed. Kendi is also the author of the award-winning book, The Black Campus Movement: Black Students and the Racial Reconstitution of Higher Education, 1965-1972. He has published fourteen essays in journals and books, as well as many op-eds in a number of publications, including The New York Times, Salon, New York Daily News, The Huffington Post, and The Chronicle of Higher Education.

He is the associate editor of the leading online platform for public scholarship on Black life, Black Perspectives. He has received research fellowships, grants, and visiting appointments from a variety of universities, foundations, professional associations, and libraries, including the American Historical Association, Library of Congress, National Academy of Education, Spencer Foundation, Lyndon B. Johnson Library & Museum, Rutgers Center for Historical Analysis, Brown University, Princeton University, and Duke University.

A graduate of Florida A&M University and Temple University, Kendi lives in Gainesville, Florida. His next book, which will be published by Random House, is tentatively titled, How to be An Antiracist.
---
Carlos Castillo-Chavez | March 17, 2016

Dr. Carlos Castillo-Chavez is a Regents Professor and a Joaquin Bustoz Jr. Professor of Mathematical Biology at Arizona State University who has co-authored over 200 publications. His 38 PhD students include 18 women, 23 from US underrepresented groups and 6 from Latin America. In addition, he has mentored over 25 postdoctoral students and been a research co-mentor to over 400 undergraduates.

Recognitions of his work include: three White House Awards (1992,1997, and 2011), the 12th American Mathematical Society Distinguished Public Service Award in 2010, and the 2007 AAAS Mentor award. He is a fellow of the AAAS (American Association for the Advancement of Science), SIAM (Society for Industrial and Applied Mathematics), AMS (American Mathematical Society), and ACE (American College of Epidemiology).

Dr. Castillo-Chavez has held honorary Professorships at Xi'an Jiatong University in China, the Universidad de Belgrano in Argentina and East Tennessee State University. Past appointments include a Stanislaw M. Ulam Distinguished Scholar at Los Alamos National Laboratory, a Cátedra Patrimonial at UNAM in México, and a Martin Luther King Jr. Professorship at MIT.

He is a member of the Board of Higher Education at the National Academy of Sciences (2009-2015) and serves in President Barack Obama's Committee on the National Medal of Science (2010-2015). He is 17th recipient of the SIAM Prize for Distinguished Service to the Profession (2015) and the inaugural recipient of the Dr. William Yslas Outstanding STEM Award, by Victoria Foundation Award and co-sponsored by the Pasqua Yaqui Tribe of Arizona (2015).
---

The Graduate Dean's Advisory Council on Diversity was formed in 2015 with a mission of enhancing and strengthening a culture of open inquiry, pluralism, mutual respect, and engagement among — and for — UC Merced graduate students through the work of the council itself and through the active advisement of the Dean.
See more information the council and its activity here. 
---
Campus Resources & Allies
Additional Student Resources
---
Campus Policies, Initiatives & Information
---
Diversity Forums, Societies, and Conferences
---
Systemwide Policies, Initiatives, & Information
---
Graduate Fellowships Promoting Diversity
UC Merced invites all students to help create an environment committed to sustaining and advancing initiatives for an inclusive campus community. Furthermore, as a diverse campus and a Hispanic Serving Institution (HSI), many opportunities exist for students to receive graduate funding from fellowships seeking individuals with diverse backgrounds.  Please follow the links below for additional information:
Eugene-Cota Robles Fellowship
Faculty Mentor Program
President's Dissertation Year Fellowship
Graduate Dean's Dissertation Year Fellowship
Miguel Velez Scholarship
---
Undocumented Students

UC Merced welcomes undocumented students — use the links below to find out more about graduate education as an undocumented student at UC Merced. For even more information, be sure to visit Undocumented Student Services.
Undocumented Graduate Student Handbook
---
Medical Accommodations & Leave
UC Merced complies with the UC established policies to provide and promote a supportive workplace culture for medical leave accommodations for our graduate students. 
All graduate students have equal access to accomodation resources. Depending on the situation, students can meet with Disability Services and/or Human Resources (for TA's and GSR's requiring accommodation). The Graduate Division helps to facilitate communication among departments/schools and can guide students toward available resources.
Leave Requests: 
Graduate Student Researchers (GSR) and Academic Student Employees (ASE) Leave Request Form
Direct all questions to your hiring school and/or to the Academic Personnel Office.
Internal Fellowship awardees (i.e. Eugene Coda Robles, President's Dissertation, etc.) should contact the Graduate Division.
Longer absences are available (up to 1 year) via the Education Leave Program. Find the application here.
---

In 2015, UC Merced was recognized by the White House Initiative on Educational Excellence for Hispanics as one of 150 public and private institutions that have made significant commitments to the nation's Hispanic population.