The transition from undergraduate to graduate students can be extremely difficult, leading to potential problems with student success, retention and even graduation.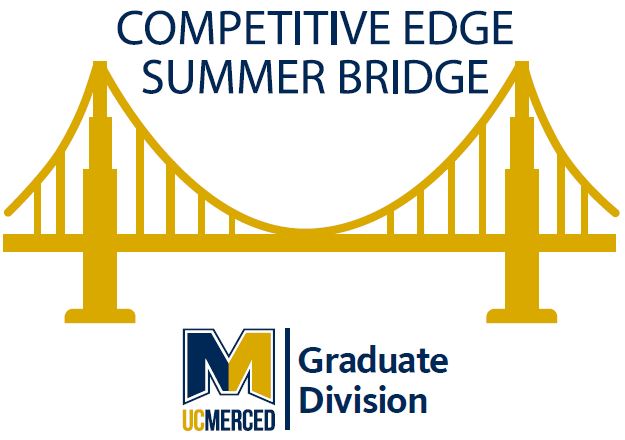 Graduate students face an unusual dilemma: as undergraduates, they were the smartest and most successful students in their classrooms. But when they first enter graduate school, they feel like the least knowledgeable students in the room, painfully aware of how much they still need to learn.
This radical shift comes at a time when they must quickly learn to navigate a new school and a new city — all the while juggling intense work, research, and study schedules. And while this poses a significant challenge for nearly all students, it is perhaps most difficult for those with a limited support network — such as first generation students or those from backgrounds typically underrepresented in higher education.
The UC Merced Competitive Edge Summer Bridge program addresses this critical point in a graduate student's development and helps to ensure that participants are better equipped to complete their degrees and go on to successful careers.
---
The Program At a Glance
Graduate students who participate in this program: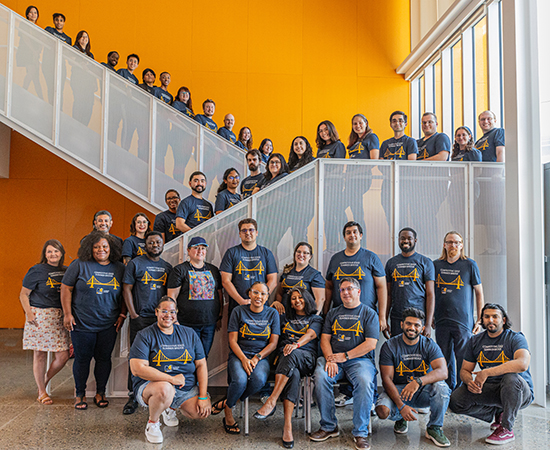 Move to campus early for better acclimation
Are placed in a cohort to build early support structures
Begin work with advisors to get a head start on research techniques and projects
Attend tailored workshops and seminars designed to give them a broad foundation of professional knowledge
Work with funding experts to make significant progress on a major external predoctoral fellowship proposal
---
Program Components
The Graduate Division has organized a series of seminars and workshops designed to help students acclimate to graduate work, begin the process of learning to write academic proposals and papers, and to proactively seek out and self-train in the basic technical skills needed to conduct their research.
Weekly Workshops:
Fellowship Writing
Data Management
Humanities Research Methods
Professional Development

Adjusting to Graduate School
Maximizing Advisory/Advisee Relationships
Mastering Academic Writing
Balancing Personal and Academic Life
Diversity in Academia
Introduction to Teaching
Presenting in Academia
Mentor Workshops
Social and Networking Events:
Ice Cream and Networking
Lunches
Outdoor Activites
---
Testimonials
"The Competitive Edge Summer Bridge Program provided me with invaluable information about what reviewers look for in applications. During this time I received helpful, detailed feedback and advice from the mentors and previous awardees that were crucial to the success of my applications".
-Maia Powell
Ph.D. student in Applied Mathematics
2018 Summer Bridge cohort
2020 NSF Graduate Research Fellow 
"I learned a great deal during the Summer Bridge program and the experience has eased my worry about my preparation for graduate school.

I feel now that I know what to expect and what will be expected of me."
-Tashelle Wright
Ph.D. student in Public Health
2016 Summer Bridge cohort
2017 Summer Bridge mentor
"I found the adjusting to grad school panel really helpful for understanding how the more experienced students have coped with the challenges they have faced in graduate school."
-Clement Laksana
Ph.D. student in Quantitative & Systems Biology
2016 Summer Bridge cohort
2017 Summer Bridge mentor
"It was great to be able to get a head start and feel more prepared for the upcoming semester.

This literally lessened my anxiety about starting grad school."
-Sara Schneider
Ph.D. student in Cognitive & Information Sciences
2016 Summer Bridge cohort
---
2023-24 Cohort
Kylie Freitas
Applied Mathematics
Melissa Almeida
Cognitive & Information Sciences
Gregory Mwamba
Applied Mathematics
Andrew Martin
Sociology
Teddy Adams
Physics
Anthony Kemp
Political Science
Ching Ting Roy Ng
Bioengineering
Lynn Breithaupt
Quantitative & Systems Biology
Ashley Borjon
Sociology
Angela Roberts
Interdisciiplinary Humanities
Melissa Rocha
Interdisciplinary Humanities
Vanessa Sanchez
Quantitative and Systems Biology
Christopher Mastandrea
Physics
Azeem Horani
Quantitative & Systems Biology
Emily Ernst
Sociology
Rebecca Sullivan
Cognitive and Information Sciences
Elsa Vazquez
Physics
John Adeleke
Sociology
Adam Holm
Cognitive Information Sciences
Bethany Saint-Smith
Interdisciplinary Humanities
Annabella Nouel Barreto
Quantitative & Systems Biology
Alex Hernandez
Chemistry and Biochemistry
Fernando Espinoza-Ortiz
Physics
Justin Barnes
Sociology
Sage Gorney
Chemistry and Biochemistry
Ethan Custodio
Physics
Katherina Martinez
Chemistry and Biochemistry
Cherika Gamble
Interdisciplinary Humanities
Khamyl Cooksey
Chemistry and Biochemistry
Anthony Osborne
Chemistry and Biochemistry
Wolfgang Kern
Physics
Jesica Calderon
Quantitative and Systems Biology
Gunnar Carlson
Chemistry and Biochemistry
---
2022-23 Cohort
Brianna Aguilar
Chemistry & Chemical Biology
Maribel Viveros
Cognitive & Information Sciences
Metzli Montero
Materials & Bio Science Engineering
Anna-Celine Guilas
Psychological Sciences
Miranda Luque
Quantitative & Systems Biology
Shila Alizadehghobadi
Mechanical Engineering
Jonathan Aguilera
Materials & Biomaterials Science Engineering
Eira Jardines
Quantitative & Systems Biology
Rasha Naseif
Sociology
Kimberly Garcia-Galvez
Sociology
Shaira Vargas Mejia
Interdisciplinary Humanities
Yulissa Torres
Interdisciplinary Humanities
Shiraz Norrani
Interdisciplinary Humanities
Jesselynn LaBelle
Quantitative & Systems Biology
Jullanar Williams
Sociology
Brandon Imstepf
Applied Math
Jack Pham
Applied Mathematics
Jesse Rodriguez
Bioengineering
Emily Diekmann
Economics
Kara Hunter
Chemistry & Chemical Biology
Jazmin Reyes Servin
Quantitative & Systems Biology
---
2021-22 Cohort
Andres Arias
Sociology
Jarrod Brown Jr.
Sociology
Samantha Tucker
Interdisciplinary Humanities
Victor Duran Arroyo
Chemistry & Chemical Biology
Selina Espinoza
Psychological Sciences
Gabriela Flores
Sociology
Seth Gilchrist
Environmental Systems
Tiffany Ho
Economics
Gerald Lemmon
Sociology
Jessica Lopez
Political Science
Justus Nwoke
Mechanical Engineering
Cory-James Pugne-Andenoro
Quantitative & Systems Biology
Jenny Quinn
Physics
Joshua Quintong
Bioengineering
Sabrina Rawson
Interdisciplinary Humanities
Dylan Richardson
Psychological Sciences
Irabiel Romero Ruiz
Applied Mathematics
Montserrat Santos
Quantitative & Systems Biology
 
Justin Couvrette
Materials & Biomaterials Science Eng
 
---
2019-20 Cohort
Camille Paladino-Ponce
Interdisciplinary Humanities
Carmen Salazar
Sociology
Melinda Gonzalez
Environmental Systems
Frank Gutierrez
Quantitative & Systems Biology
Cory McCullough
Applied Mathematics
 Giovanni Gonzalez Araujo
Electrical Eng & Comp Science
Bianca Hinojosa
Psychological Sciences
Alfredo Gaona
Interdisciplinary Humanities
Jovana Ramos
Sociology
Brian Wang
Quantitative & Systems Biology
Yulissa Perez-Rojas
Environmental Systems
Bailey Carlson
Quantitative & Systems Biology
Valerie Martinez
Public Health
Andrew Lazar
Applied Mathematics
Kesia Garibay
Public Health
Alisha Jones
Sociology
Benjamin Tanielian
Chemistry & Chemical Biology
Jamie Moore
Interdisciplinary Humanities
Taylor Fugere
Management of Complex Systems
Ricardo Robles
Political Science
De Zhen Zhou
Physics
 
Kelly Otsuka
Quantitative & Systems Biology
 
---
2018-19 Cohort
Maria Mendoza
Quantitative & Systems Biology
Lori Lewis
Applied Mathematics
Leila Wahab
Environmental Systems
Donnoban Orozco
Quantitative & Systems Biology
Molly Karnes
Environmental Systems
 John Flores
Interdisciplinary Humanities
Victor Hernandez
Bio Eng & Small-Scale Tech
Kevin Easley
Interdisciplinary Humanities
Julio Perez
Mechanical Engineering
Shaina Santa Cruz
Public Health
Maia Powell
Applied Mathematics
James Sullivan
Psychological Sciences
Melissa Spence
Applied Mathematics
Abdul Zamani
Chemistry & Chemical Biology
Edgar Perez-Lopez
Mechanical Engineering
---
2017-18 Cohort
Kimberly Arellano
Public Health
Jordyn Brinkley
Environmental Science
William Delmas
Physics
Pedro Diaz-Parga
Quantitative & Systems Biology
Reagan Dobbs
Political Science
Karly Higgins
Quantitative & Systems Biology
Lindsey Jerome
Environmental Science
Kavita Kumar
Mechanical Engineering
Diego Lopez
Quantitative & Systems Biology
Eddie Lucero
Political Science
Vicente Mata
Sociology
Salvador Montes
Physics
Dylan Moses
Political Science
Jocelyn Ochoa
Chemistry & Chemical Biology
Lillie Pennington
Environmental Science
 Mohammad Qasim
Quantitative & Systems Biology
Justin Ramirez
Bio Eng & Small-Scale Tech
Suzanne Sandin
Chemistry & Chemical Biology
William Spaller
Chemistry & Chemical Biology
Tyrome Sweet
Quantitative & Systems Biology
Sammy Villa
Quantitative & Systems Biology
---
2016-17 Cohort
Christina Acosta
Sociology
Nick Cruz
Political Science
Dominique Davenport
Physics
Craig Ennis
Quantitative & Systems Biology
Clement Laksana
Quantitative & Systems Biology
 Lorraine Ramos
Interdisciplinary Humanities
Adolfo Ramirez
Cognitive & Information Sciences
Sara Schneider
Cognitive & Information Systems
John Wilson
Physics
Tashelle Wright
Public Health
 
Qingqing Xu
Environmental Systems