Every week, Bridget Martinez spends some time thinking about her goals. Then she makes a list — not just detailing the things she needs to do that week, but also outlining her long-term plans. "It's a habit I've gotten into," she said. "It keeps me motivated."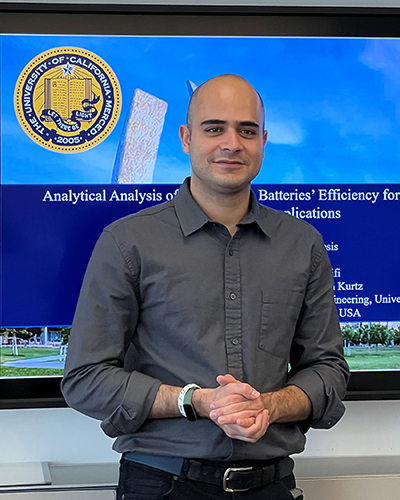 The habit has paid off. In 2014, she won a prestigious Dennis R Washington Achievement Scholarship. Awarded to only a handful of scholars each year, the $90,000 scholarship funds graduate students who excel while overcoming personal adversity.
Martinez's story is a familiar one at UC Merced. As the first person in her family to consider college, she found the application process daunting. Receiving an invitation to apply from Harvard University made matters worse.
"It was nice to get the letter, but I knew I couldn't afford it," she said, "And even more fundamental, I just didn't understand how I could go to a school like Harvard. It was too foreign of a concept to me."
Instead, Martinez chose community college and supported herself by working the graveyard shift at Kaiser Permanente. Two years later, she was accepted to UC San Diego and UC Merced as a transfer student.
The promise of personalized attention drew her to UC Merced. The area's lower cost of living didn't hurt.
While completing her undergraduate degree, she studied abroad — traveling to Italy, Egypt and Korea — and fell in love with research along the way. She connected with Professor Rudy Ortiz and designed her own research project involving elephant seals, published in The Journal of Experimental Biology in 2013.
Though her ultimate goal is medical school, Martinez's undergraduate work left her with more questions than answers. She's sought those answers as a Ph.D. candidate in the quantitative and systems biology group (QSB).
Martinez has recently returned from New Zealand, where she concluded her dissertation research by with Dr. Neil Gemmell in the Dunedin School of Medicine at the University of Otago. While there, she assessed the changes in gene function in fasting northern elephant seal pups before and after a thyroid-stimulating hormone infusion.
Elephant seals — which go without food or water for weeks at a time during natural fasting periods — are considered a natural model for diabetes, metabolic syndrome, and cardiovascular disease. Unlike humans, the seals' metabolism increases during their fasting periods, and they burn mainly fats.
If researchers can unlock the mysteries of the mammals' endocrine system, that information could be used to better treat diabetes in humans.
"This is why I love research so much," Martinez said. "To be able to get results from a study and know that you are one of the first people in the world to know this one thing — it's intoxicating."
Martinez will graduate with her Ph.D. in the spring and is already applying to medical schools. She hopes to move from the research bench to the bedside and back again, finding answers to her research questions and applying them to current problems. When she succeeds, it won't be a surprise. After all, it's on her list.