Two UC Merced advanced doctoral students had the rare opportunity to perfect their research pitch techniques in front of major industry executives this summer and won third place in a national competition for their work.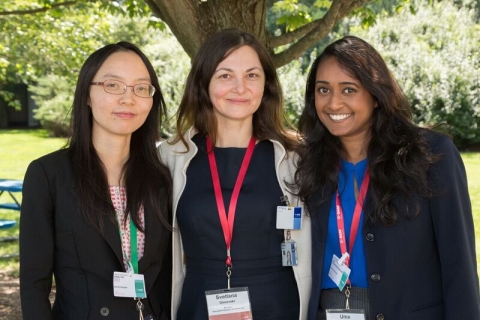 Left to right: Shelly Hu, BASF mentor Dr. Svetlana Dimovski, and Uma Ramasamy.
Xiaoli (Shelly) Hu and Uma Ramasamy — both students of Professor Ashlie Martini — teamed up and registered to compete in the second annual BASF Science Competition this spring. After being selected as finalists, they traveled to the BASF research and development facility in New York to make their pitch regarding synthetic lubricants to executives on Aug. 4.
The team was beaten only by teams from Northwestern and Clemson universities.
"BASF is the largest chemical producer in the world, and this competition drew entries from all over the country," Martini said. "That Uma and Shelly placed in the top three is extremely impressive — an accomplishment that will not only propel them as they begin their careers after graduation, but will also increase national awareness of our graduate programs and the extraordinary talent we have here at UC Merced."
Ramasamy, a fifth-year doctoral student in the Biological Engineering and Small-Scale Technologies graduate group, is researching ways to optimize lubricant function. Hu is a fifth-year doctoral student in the Mechanical Engineering graduate group who is exploring novel ways to improve the energy efficiency of mechanical components by minimizing friction and wear. Both students chose to do their doctoral work at UC Merced in large part because they wanted to work with Martini, who runs the Fundamental Tribology lab on campus.
After being selected as finalists, Hu and Ramasamy were assigned a mentor from BASF, Dr. Svetlana Dimovski, to help them develop and polish the pitch they would deliver to company executives during the final competition.
Each team in the competition was tasked with answering a research question: "What chemistries can be used to develop a synthetic fluid to meet the needs of tomorrow's high-performance, high-efficiency engines and transmissions?"
In response, Hu and Ramasamy developed a methodology to better understand the relationship between molecular structure and functionality of lubricants using molecular dynamics simulations.
If implemented, the research generated by the team's idea would provide new insight into the fundamental structure-property-function relationships of oils — and could potentially help companies like BASF design lubricants with optimal performance and superior functionality.
Both Hu and Ramasamy were thrilled to have been selected as finalists in the competition.  
"Working with our BASF mentor was particularly helpful," Ramasamy said. "We were able to hone skills that were helpful to our pitch and that we'll be able to use in other presentations and while we're on the job market."
The students also appreciated meeting with industry executives and touring the BASF facility during the competition.
"The entire experience was a great opportunity for us to connect with people from industry and graduate students from other universities," Hu said.