Childhood obesity and the environment took center stage last week when UC Merced graduate students and the graduate dean visited lawmakers in Sacramento to advocate for the importance of graduate student research to the state of California.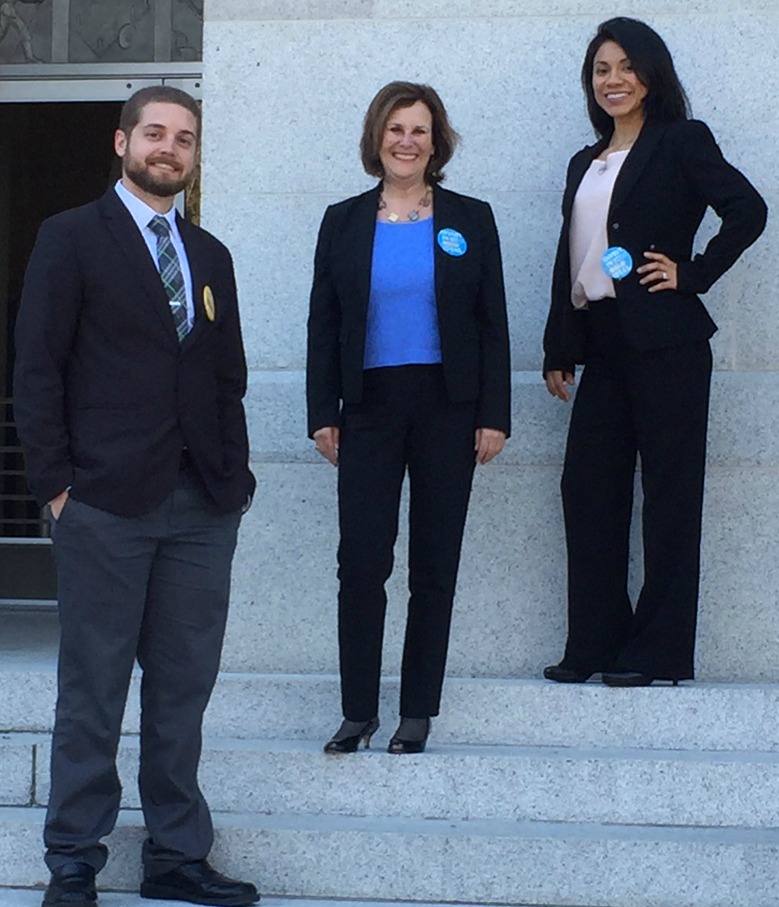 Andrew Zumkehr, Graduate Dean Zatz, and Beatriz Sosa-Prado
On Wednesday, March 16, Vice Provost and Graduate Dean Marjorie Zatz and graduate students Beatriz Sosa-Prado and Andrew Zumkehr — along with representatives from every University of California campus and University of California president Janet Napolitano — traveled to the state Capitol to share ideas and innovations that have been developed by University of California graduate students.
The advocates visited the offices of almost 90 members of the state Assembly and Senate to highlight the ways in which graduate student research can directly benefit the state and the people of California. 
"Graduate research is integral to the educational mission of our campus and university system," Zatz said. "Our students are doing exciting, essential work that will help to solve some of the world's most pressing social and scientific problems. This trip helps us to convey that message to state officials in a very specific, personal way."
UC Merced faculty from each graduate group submitted the names of exceptional graduate students as possible delegates for the trip earlier this spring. After careful deliberation, Zatz selected Zumkehr and Sosa-Prado as representatives for the campus because their research represents the excellent research being conducted by UC Merced graduate students in areas of critical importance to the state.
Sosa-Prado is a first-year public health Ph.D. student taking aim at childhood obesity, specifically in Latino youth. Her research looks at how cultural practices and values can promote healthy eating and physical activity, as well as how the health behaviors of children change over time, the longer they reside in the United States. Her findings could help health officials improve the long-term health outlook for more than 50 percent of California children.
"I really valued this opportunity to talk to our elected officials about the impact of my research on Latino health and childhood obesity among Latino children and the implications it has on the health, economy and future of California for generations to come," said Sosa-Prado. "I believe that being able to explain the usefulness of our research to the general public is a skill that all graduate students should hone, so I was particularly grateful for this experience."
Zumkehr is an environmental systems doctoral student working with the California State Water Project. He is working to find ways to cover the 3,000 miles of canals that send water from California's reservoirs to parched corners of the state with solar-topped shade structures. The project could potentially conserve millions of gallons of water that is now lost to evaporation while also creating a new source of clean electricity.
"I was surprised at how well our research was received — across party lines — by the senators, Assembly members, and their staff," Zumkehr said. "Everyone showed genuine interest in our work and in some cases wanted our results to get ideas for legislation."
For even more information about this year's Graduate Research Advocacy day, see the full report here.