The Dr. Donald and Effie Godbold Fellowship Award is designed to recognized the unique challenges that face international graduate students and the promise that they can contribute a unique perspective to our community.  This award is based on the merit of the graduate student's current academic standing and the submitted personal statement.  This fellowship is available only to PhD students with an international student visa status.
---
Eligibility Requirments & Standards
PhD students with an international student visa status.
Currently be enrolled in 12 units in one of the graduate programs, GPA ≥ 3.0 and good academic standing.
---
Financial Support
Only one award will be made each academic year.
Recipient will receive an award of $1,000 in this current academic year to be used for travel and/or student research. Funds will disburse by the middle of Spring 2019.
---
Use of Funds
Funds may be used specifically for the pursuit of educational and graduate career goals.
---
Award Procedures
Apply by completing an online application.  Please note, the fellowship application is built within the admissions system, so you might see some items that reference admissions.
During the application process you will be able to select this fellowship among others, if it is currently open.
Each application must include a one-page personal statement that speaks to how this award will help the student overcome the unique challenges facing international students and achieve their educational goals.  Special consideration will be given to students whose research and/or extracurricular activities contribute to the broadening of cultural perspectives at UCM and the greater Central Valley.
Must include one letter of recommendation from a UCM faculty member, CV and unofficial UCM transcripts.
The fellowship committee will review all complete applications based on the criteria above.  However, please note, incomplete applications will not be reviewed.
---
* The Graduate Division reserves the right not to make an award in any given year for which a call for applications/nominations has been issued.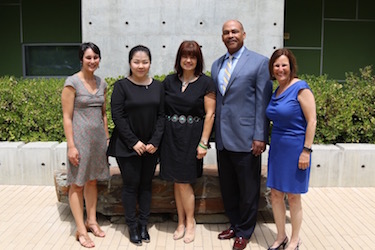 2015 Godbold fellow Carmen Kho and Dr. Donald and Effie
Godbold, along with Dr. Alex Main and Graduate Dean Marjorie Zatz
---
Deadlines
See the Internal Fellowships page for current deadlines associated with this fellowship.
---
Godbold Fellows
2017/2018
Megha Suswaram
Quantitative and Systems Biology
2016/2017
Soheil Fatehiboroujeni
Mechanical Engineering
2015/2016
Carmen Kho
Psychological Sciences
2014/2015
Kaiqi Hua
Interdisciplinary Humanities