Congratulations to our 2023 Grad Slam Champion
Aneelman Brar!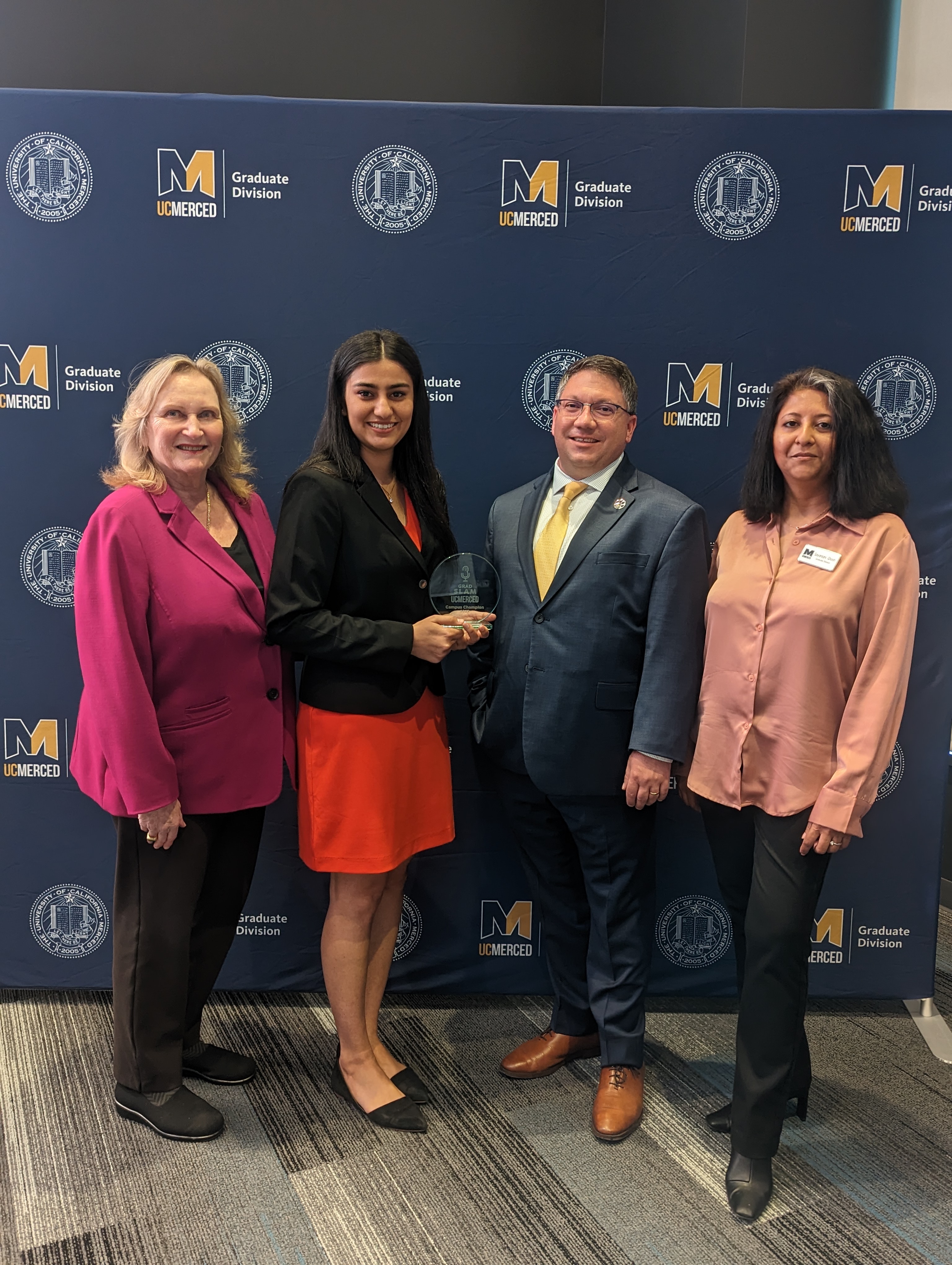 ---
WHAT IS GRAD SLAM?
We already know that you are working hard to find answers to the world's most important and pressing research questions. But can you distill your research into the key 'sound bites' that will be necessary to convey its importance, usefulness, and timeliness to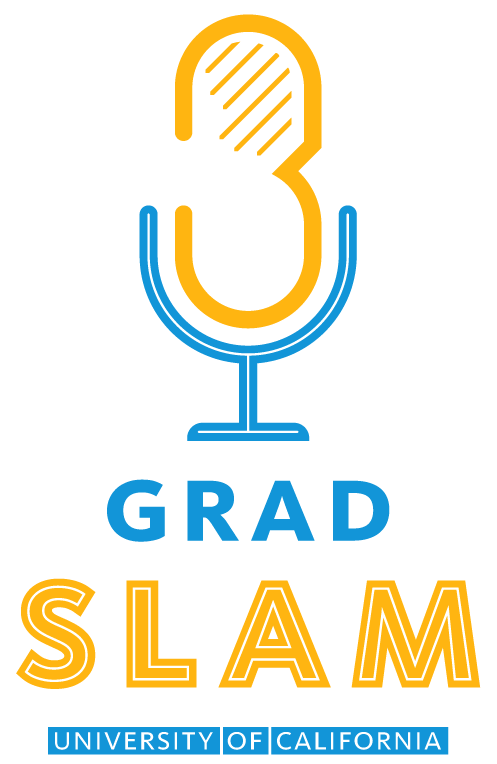 others outside your field — like faculty hiring committees, professionals, administrators, lawmakers, co-workers, friends…even your parents?
Grad Slam is a UC systemwide competition that provides you with a forum to explain the methods, results, and significance of your research via a three-minute presentation to a non-specialty audience and panel of judges.
As a participant, you will be challenged to practice and perfect your answer to the inevitable question, "What is your research about?" Along the way, you will improve your presentation and PowerPoint skills, learn more about the research your fellow graduate students are doing here at UC Merced, and compete for some great prizes.
---
PRIZES
More than a competition, Grad Slam is a celebration of the accomplishments of our graduate students.
$5,000* - Campus Champion
$2,000* - Second Place
$1,000* - Third Place
$250* - Top 10 Qualifiers, and one-on-one coaching with speaking professionals.
---
PAST WINNERS
Check out some of our past winners and their videos. 
---
IMPORTANT DATES - 
Registraion: Feb. 3, by noon, online
Qualifying round: March, virtually
Final round: April 10, read more
UC finals: May 5, LinkedIn, SF
---
RULES AND JUDGING
**Please note that the campus will have specific rules for the Qualifying Rounds as well as the Finals Rounds. These will be made available once the registration is closed on February 3. 
Eligibility: All graduate students currently enrolled in UC Merced Master's or doctoral programs are eligible to compete. 
Collaboration: In cases of collaborative research, the presenter's contribution to the project must be clearly specified.
Grad Slam Rules:
1. Rules may vary depending on finals or quals. Please find general rules below and watch your email for specfifics if you are competing. 
2. You may only use PowerPoint slides (no Prezi or other presentation formats). You may have a maximum of 4 slides total: (1) Title Slide with your name, graduate program, and the title of your presentation, and (1) Presentation Slides. Not that alides are not required and the focus should remain on the content of your talk. 
3. All work on the slides must be original to the student and cannot be generated by a professional. All other material must be properly cited. 
4. No slide transitions, animations or 'movement' of any descriptions are allowed.
5. Embedded audio and videos within your Powerpoint slides are permitted and those files may be animated (may be subject to prior approval from Graduate Division).
6. Props such as costumes, musical instruments, laboratory equipment, etc. are permitted with prior approval from Graduate Division. Any props should require minimal set-up and not produce a mess.
7. Presentations are to be spoken word (e.g. no poems, raps or songs).
8. Presentations must be conducted from the stage.
9. The presentation time will commence from the moment the presenter starts talking and/or making sounds or movements that are clearly part of the presentation. Timing will commence from the moment the student begins her/his presentation. The presentation begins at the moment the student engages with the audience (if s/he starts with a hand clap, a gesture, an audio or video clip or any other such engagement, prior to speaking, the clock begins at that time; if there is no such engagement the clock starts when the student begins speaking). Points will be deducted from the final score, beginning with one point at 3:03, and one point being taken off for every two seconds the speaker continues after that. See below: 
3:03-3:04 1 point 

3:05-3:06 2 points 
3:07-3:08 3 points 
3:09-3:10 4 points
3:11-3:12 5 points
etc.
11. The research being presented must be related to your own graduate research at UC Merced.
12. Students invited to participate in the UC Merced final round or the systemwide final competition must present on the same subject matter.
13. Graduate Division runs 'GradSLAM! on the Road' events to increase awareness about UC Merced research, to reach out to potential donors or donor groups interested in supporting graduate education, and to help students network with industry professionals interested in their work. Finalists will be asked to volunteer for one or more of these events during the year following the competition (if schedules permit).
14. The decision of the panel of judges is final. In the event of a tie, there will be a tiebreaker vote by competition officials.
---
JUDGING & SCORING
All judging will occur asynchronously and synchronously  during the 2022 competition. For the qualifying round (via video submissions), judging panels of faculty members will judge each video submission in two rounds according to the UC Merced Grad Slam Scorecard. The final round (in-person) will be judged by prominent members from the campus community, donors and community members. Judges are selected to ensure disciplinary diversity and every effort will be made to minimize conflicts of interest.
---
QUESTIONS?
Contact Jen Quiralte or the Graduate Resource Center.
---
Presentation Examples
---
Helpful Resources
More Presentation Resources are available here.
*All prizes are awarded in the form of a one-time fellowship after the completion of the competition.